6 things to know about Malaysia's first cricket themed pub
Eat Drink
This post is brought to you in part by The Sticky Wicket.
Cricket lovers rejoice: Malaysia's first dedicated cricket bar and gastro-pub is ready to play. The Sticky Wicket, which opened its doors in upmarket Damansara Heights, Kuala Lumpur, has set the goal of becoming the home of all cricket lovers in Malaysia.
Here are a few things that might help it achieve its goal:
1. Cricket legend Aravinda de Silva came to the opening
Aravinda 'Mad Max' de Silva, considered by many as one of the finest batsmen of his generation, helped Sri Lanka to win the 1996 Cricket World Cup and brought them into the top levels of international cricket.  To date, de Silva is the only player to make a century and take three or more wickets in a World Cup final.
At the opening event, De Silva signed and presented The Sticky Wicket management with one of his old bats.
2. It has some amazing cricket memorabilia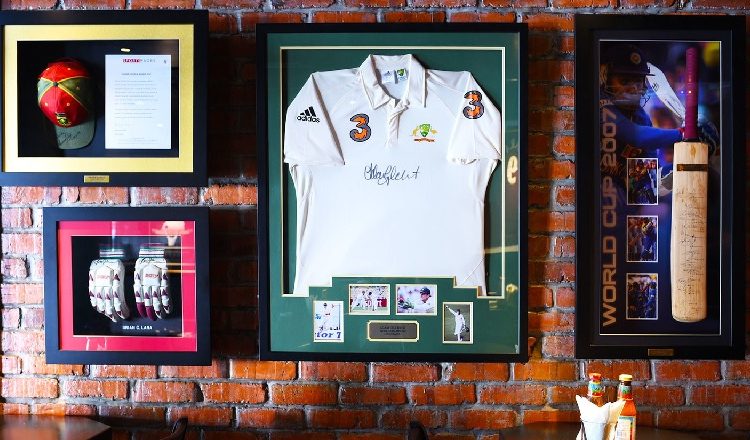 De Silva's bat has been added to an already-heaving collection of cricket memorabilia at The Sticky Wicket, including original signed and limited edition items from Brian Lara, Sachin Tendulkar and Steve Waugh, plus signatures of recent World Cup teams from India, Sri Lanka and Australia.
Brian Lara also attended a charity dinner for his Pearl and Bunty Lara Foundation held at Sticky Wicket in 2016. The bar management are aiming to bring in more personalities in future, to allow local fans to have a chance to meet with some of the great players of yesteryear.
3. It's the place to be for all sport, not just cricket
Despite being predominantly a cricket bar, The Sticky Wicket will also show the EPL football, rugby, tennis, UFC and other sports on its numerous high-definition televisions. This is in addition to its ambitious intention to show all cricket matches played around the world at its location.
4. The food is quintessential pub grub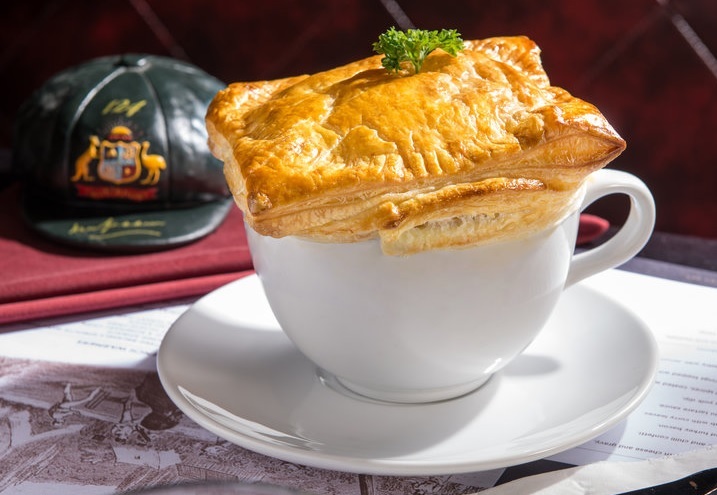 Nearly everything on the menu is a cricket pun or a reference to the star that inspired the dish. So you can enjoy some 'Quick Singles' (starters) of Sachin's Garlic Prawns, Crab Waugh of soft shell crab with curry leaves, or Bails lamb sausage rolls to begin your meal.
Then follow it with a Ponting's Chicken Pot Pie, made with green curry paste, or Springbok Boerewers, which includes chunky pure meat sausage served with spicy curry sauce.
5. The drinks are innovative and cricket-themed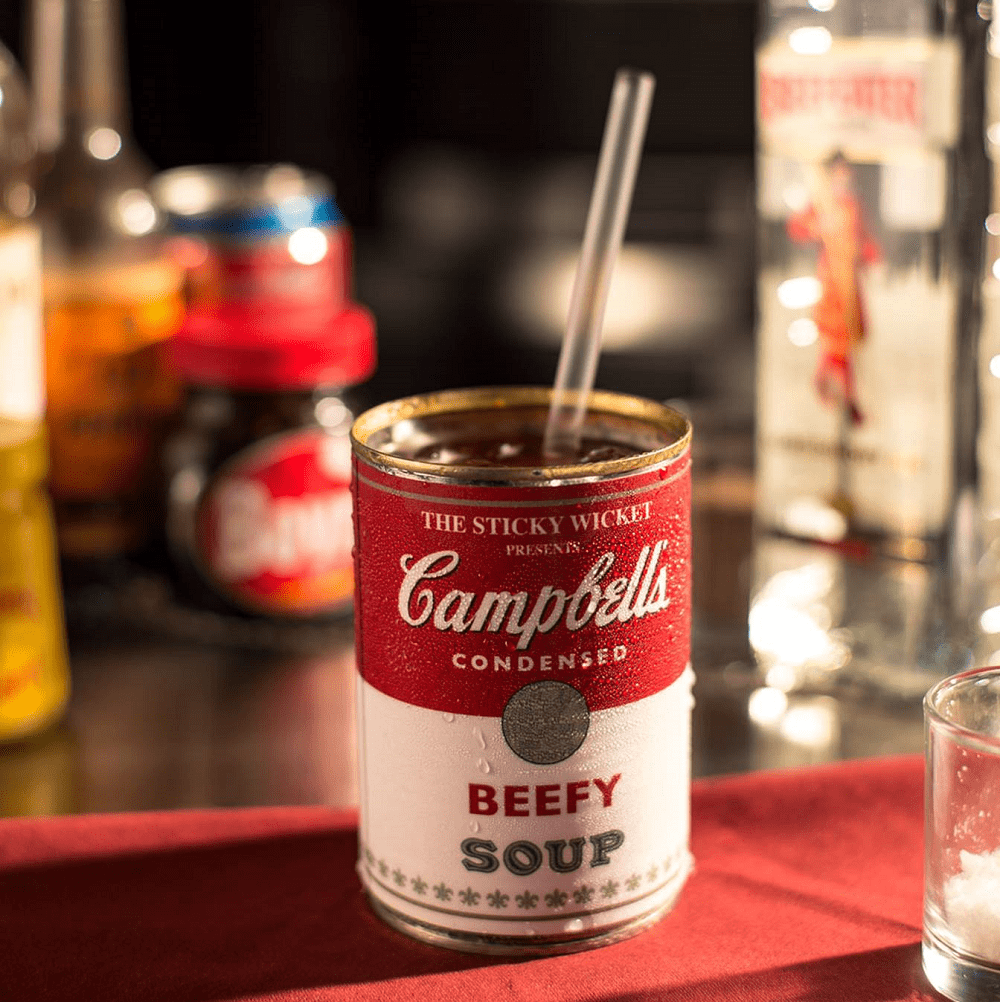 As to be expected, the cocktail list is an homage to the game, with each drink dedicated to a particular personality. All cocktails are priced between RM35 and RM49 and include:
the Dickie Bird, with Chase gin, Campari, Yorkshire tea syrup, fresh apple and lemon juice;
the Rawalpindi Express (for Shoaib Akhtar), with Stolichnaya, Pedro Ximenez, chai tea syrup and a shot of espresso;
Demolition Man (for Adam Gilchrist), comprising a shot of Cimarron tequila and a shot of Hijau;
Bad Attitude (for Chris Cairns), with Luxardo Maraschino, Sauvigon Blanc, Regans' orange bitters and Chandon Brut;
The Smiling Assassin (for Muttiah Muralitharan), with Plantation 3 star, Joseph Cartron Cocody Coconut, Crème de Cacao and ginger ale, served in a coconut shell.
the Beefy (Ian Botham), with Beefeater gun, Tayler's port, Cambell's tomato juice seasoned with balsamic vinegar, Worcestershire sauce, mustard, and Bovril served in a Cambell soup can.
6. There's a Pub Quiz, plus a Ladies' Night and Happy Hours
Hosted by one of the most famous Quiz Masters in KL, Sri Ram, The Sticky Wicket pub quiz starts at 8.30pm every Tuesday. The prizes include a bottle for the winning team and a round of drinks for the runners up. It's also good news for the ladies as they get discounted drinks on Wednesday nights and everyone gets cheaper booze through the day on Sunday, plus during Monday to Saturday, between 4pm and 7.30pm.
For more information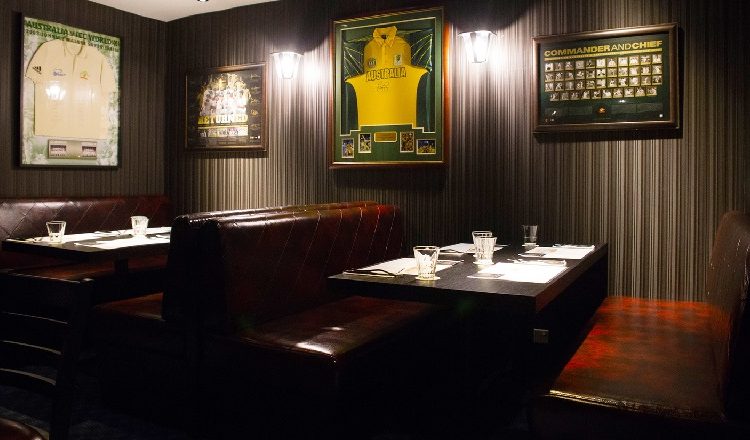 If you fancy watching the next big cricket game with some traditional English food and a tasty cocktails, pop into The Sticky Wicket at Jalan Medan Setia 2, Plaza Damansara, Damansara Heights, KL.
You can follow The Sticky Wicket for all things cricket on Facebook at fb.com/TheStickyWicketKL, Instagram @TheStickyWicketKL or visit the website, stickywicket.pub. For reservations call +03-20115378.
Location map for Sticky Wicket

6 things to know about Malaysia's first cricket themed pub
Source: Eat Drink